Games For All
Entertainment For All
If you are looking for the best game tables in San Jose, CA. then you have come to the right place. We offer several types of game tables including Foosball, Ping Pong, Pool and Air Hockey. These are great for parties and events of all sizes. Game tables are enjoyed by both kids and adults of all ages.
Arcade Machines
Are you wanting to rent a classic arcade machine for your next event? Well, we have got you covered! We boast an amazing selection of classic arcade machinces including Pacman, Centipede, and Space Invaders.
Game Rentals & More
Here at iJump Party Rentals We offer several types of rentals including bounce houses, water slides, mechanical rides and more. Thank you and we look forword to working with you.
Games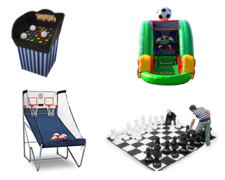 Arcade & Table Games